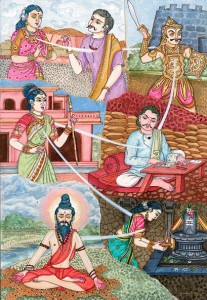 Dear NARC: 
How do I know who my children were in their past lives?
 – Edna P., Fort Wayne IN
Dear Edna,
It's important to be vigilant for past-life clues in your child's behavior. Pay attention to their favorite toys, the pictures they draw, and their dream journals. Does your son like to make buildings with toy blocks? It's possible he was a famous architect, or possibly one of the slaves who built the Pyramids. Does your daughter have a passion for horses? She may have been a Mongol raider or a gruff German cavalryman.
Also keep a close eye on how they respond to stories and films. If your child loves Snow White – that could mean she was once a princess, a dwarf, a Grimm brother, or maybe Walt Disney himself!
Remember, don't let parental pride and wishful thinking cloud your judgment. Just because your little tyke loves to fingerpaint doesn't make him the reincarnation of Pablo Picasso – he could also be Renoir, Monet, or even Andy Warhol.
Continue reading The New Age Reincarnation Center Answers Your Parenting Questions →