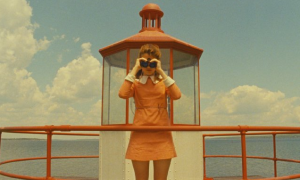 The most irritating thing about making a year-end list of favorite movies is that so many of the top-releases (especially those considered "Oscar Bait") are jammed out in the last month of the year, and if you miss them in theaters there's no way to see them until spring. Zero Dark Thirty is the film critics' consensus film of the year, but it's only open in NY/LA right now and won't even come out here until Jan. 11th. It's irritating to read a bunch of critics' top ten lists and see several movies that I couldn't even see now if I wanted to.
Anyway, it was a good year for movies! Here is my list. Usual disclaimer – I'm not much of a film critic (not even much of an amateur film critic) so don't take my opinions too seriously or anything. These are just the movies that tickled my fancy.
Moonrise Kingdom. I run hot and cold on Wes Anderson so when I heard that this was his "most Wes Anderson-y" film I prepared to dislike it. Instead it was both the funniest comedy and the most heartfelt romance on screen this year. I love Anderson's visual sense of humor – his ability to tell jokes just by juxtaposing things in the frame. Key Ingredient: Bill Murray.
Life of Pi.  Another one I thought I wouldn't like. Perhaps low expectations are the key to maximum enjoyment? This film was incredibly lush and beautiful, especially in 3D. I'm not ashamed to say I cried a little at the end. Key Ingredient: tigers.
The Master. Don't ask me to explain the themes or symbolism of this movie. I found it beautiful but frustratingly opaque and I still don't think I understand it very well. But I saw it twice in the theater and couldn't get it out of my head for several weeks – a mark of a great film, no? Key Ingredient: moonshine liquor made out of boat fuel.
Haywire. Those first three are at the top of a lot of peoples' lists, but I feel like I may be alone with this one. But I love a well-made action movie and Steven Soderbergh made a great one with MMA star Gina Carano. The AV Club review of this movie called it a "delivery system for ass-kickings" but I think it was more than that. Great camera work, well-told story, and a few hilarious surprises. Key Ingredient: watch out for that moose!
The Avengers. Another one that's not exactly Citizen Kane, but I try to grade movies according to what they are trying to accomplish. Joss Whedon set out to make a smart, funny, tremendously entertaining superhero movie and he nailed it. It's amazing how characters that annoyed me in previous films (Thor, Captain America) took on new life with better writing. Key Ingredient: HULK SMASH.
Sound of Noise. I watched a fair number of foreign films but this was the only one to crack my top 10. It's a Swedish film about a tone-deaf cop trying to catch a group of anarchist musicians. A must-see for drum players or fans of "Stomp". Key Ingredient: metronomes.
Lincoln. Spielberg, Day-Day Lewis, it was exactly what we thought it would be. I found it a little drab but it was too well-constructed not to make the list. Who knew parliamentary procedure could be so thrilling? Key Ingredient: "harrumph"s from the gallery.
The Cabin in the Woods. Clever premise, unpredictable plot twists, and a veritable plethora of great monster effects. If you change the ending, it would make a great pilot for a TV show. Horror films have been deconstructed before but never as cleverly as this. Key Ingredient: hot girl making out with taxidermied wolf head.
Looper. One of my favorite movies of all time is 2005's Brick, which was also directed by Rian Johnson and also starred Joseph Gordon Levitt. So I was pumped for this movie. While not as good as Brick, this twisty time travel tale was both thought-provoking and a lot of fun. It reminded me a lot of another favorite of mine, 12 Monkeys. Key Ingredient: Evil Jeff Daniels.
Premium Rush. Third movie featuring JGL in my list (with one more in the Honorables). What a year for the little kid from Third Rock from the Sun. This is another movie that scores high marks for being terrific genre entertainment. It's a fast-paced chase movie about bike messengers featuring great bike stunts and a deranged villain performance from Michael Shannon worthy of Nicolas Cage. I was on the edge of my seat. Key Ingredient: fixed gears.
Honorable Mentions: Cloud Atlas, Silver Linings Playbook, Damsels in Distress, Goon, The Dark Knight Rises
I Also Enjoyed: The Loneliest Planet, Ted, Django Unchained, Lockout, Casa de Mi Padre, Bernie, Dark Shadows, Seven Psychopaths, Argo, Safety Not Guaranteed, Seven Psychopaths, Wanderlust, Flight, Magic Mike, Skyfall, Oslo August 31st, Sound of My Voice, Once Upon a Time in Anatolia, Sleepwalk With Me, Chronicle, John Carter, 21 Jump Street, The Hunger Games, Beasts of the Southern Wild, parts of Prometheus
Meh: The Hobbit: Something Something Something, Men in Black 3, Brave, Savages, The Deep Blue Sea, The Bourne Legacy, Miss Bala, The Campaign, other parts of Prometheus
Bleh: Safe House, One for the Money, Amazing Spider-Man, Total Recall
Worst Movie I Saw This Year: Snow White and the Huntsman
That's literally every 2012 release that I watched this year. There's a lot more films that I liked than ones I didn't like. I think this is because I read reviews and try to avoid most movies that I won't like. For instance I did not go see Twilight: Moons Over My Hammy: Part 4 or Tyler Perry's Madea Said What Now?. Then again I did go see Total Recall so obviously I'm not perfect.
Still to be seen: Zero Dark Thirty, Elena, Ruby Sparks, Killer Joe, Cosmopolis, Compliance, For a Good Time Call, Arbitrage, Smashed, Berberian Sound Studio, Holy Motors, Wreck-it-Ralph, The Man with the Iron Fists, Anna Karenina, Killing Them Softly, Deadfall, Les Miserables, Save the Date, Amour, This is 40, Barbara