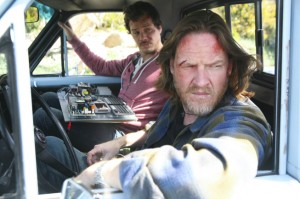 I'm definitely a television geek so it's strange that I've been making best movies/music lists all these years but have never done a best TV list. Probably because in the days before I had DVR, I caught up with everything on DVD and never watched shows week to week. Well, in 2010, I watched a lot of shows as they aired. I probably don't watch more TV than your average American but I'm efficient about it – I try lots of shows and only stick around with the ones that are very good. We're in a golden age of American television – if all you can find to watch are crappy reality shows and Law and Order spinoffs, you're not looking hard enough!
Here are my personal favorites. Usual disclaimer – I'm an amateur critic only and don't watch everything, so if your favorite 2010 show isn't listed I probably just haven't seen it. Or maybe I think it's shit. Find out by posting your favorites in the comments!
Honorable Mentions: Daily Show, Sons of Anarchy, Lost, Chuck, Childrens Hospital, Treme, 30 Rock, and of course Jeopardy!
Great Shows from 2010 I Still Need to Catch Up With: Breaking Bad, Party Down, Parks and Recreation, The Good Wife, Louie, Friday Night Lights.
Guilty Pleasures: Hellcats, True Blood.