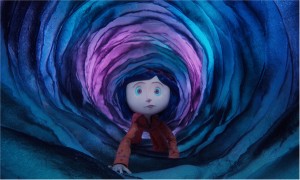 I love movies and I love making lists. The problem with making a "best of the year" list is that, unlike real film critics, we normal people have to catch up with most movies on DVD several months later. I feel like I can't make an actual Top 10 list until I've seen all the movies from 2009 that I want to see, but it feels dumb to put out a list in June of the following year. So I'm going to put out my list now and call it a rough draft. Maybe I'll give it an update in a few months when I've had a chance to catch up with films like A Serious Man, A Single Man, An Education, Moon, Extract, In the Loop, Passing Strange, Precious, Big Fan, The White Ribbon, 35 Shots of Rum, Where the Wild Things Are, and of course Bad Lieutenant: Port of Call New Orleans.
Top 10 (for now)  
Up in the Air
Coraline
The Hurt Locker
The Imaginarium of Doctor Parnassus
Fantastic Mr Fox
District 9
The Informant!
Inglourious Basterds
Duplicity
Avatar
Honorable Mention: Adventureland, Up, Star Trek, Watchmen, Crank 2, Drag Me to Hell, Harry Potter and the Half Blood Prince, The Men Who Stare at Goats, The Girlfriend Experience, Away We Go, World's Greatest Dad, Observe and Report, The Hangover
Worst movies that I sat through this year: X-Men Wolverine, The Ugly Truth, GI Joe, Taken.
Biggest disappointment: Sherlock Holmes